Reader Comments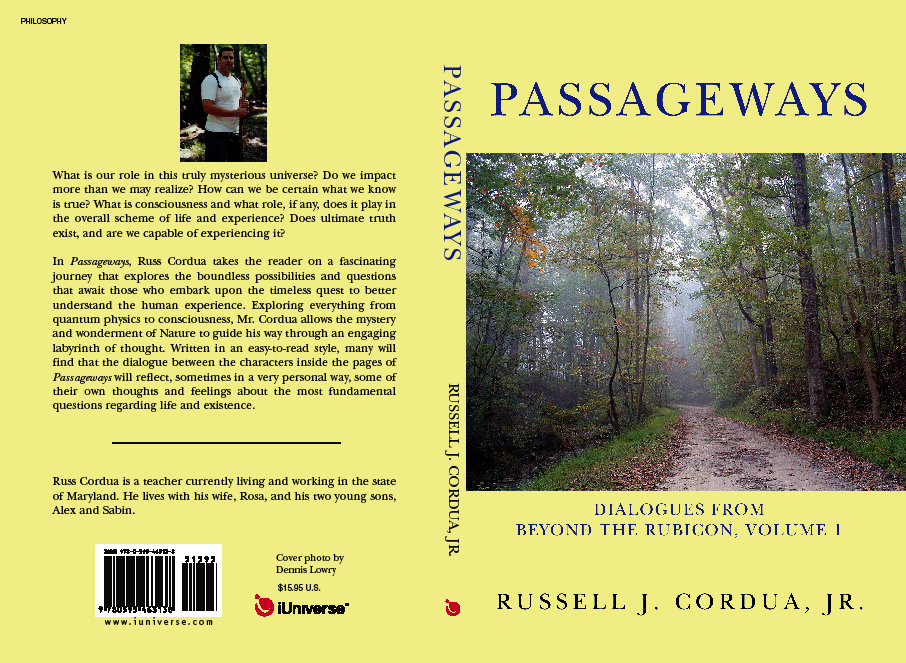 Online Review: This book is about several hiking expeditions between two brothers as they attempt to deal with the death of their father. As they each search for answers to some of the larger questions we all ask when facing the death of a loved one, they find themselves being guided toward a greater understanding through a series of writings left behind by their father. Through his own words and thoughts, he helps his sons not only cope with his passing, but assists them in charting a new course of understanding about themselves and their place in the world. Many of the writings the father left behind deal with the life lessons learned through the study of nature and the possible philosophical implications of some of the newer scientific theories currently circulating. As a result, the further one reads into Passageways, the sooner they realize they are being introduced to areas of science and nature they may not have before encountered, particularly for those of us who are novices in such areas. However, the easy back and forth dialogue between the brothers allows the reader to keep up with sometimes technical, detailed scientific topics.

The book begins with a prologue that is a terrific, must read short story set in the year 30,000 B.C. The theme found in the opening pages runs through the entire rest of the book, and Russ Cordua does a masterful job in connecting the book's ending back to the opening prologue, and thus bringing the entire project full circle. Overall, this is a very interesting book, and an ideal read for those who enjoy the intersection of philosophy and science.

Russ:

I have finished reading your latest book and I am writing to say that I enjoyed it and found it informative. I was particularly impressed with your explanation of the double slit experiment. Reading your book reminded me of the time as a young boy when I read George Gamow's, One, Two, Three Infinity. Hopefully some other young person will read your book and become as fascinated by science as was I. I hope it gets wide circulation. Have you considered doing a book on particle physics-- we need to replace the idea of the solar system image of the atom in a form accessible to the general reader.

I do wish that more people will read about science but I question whether we can on this small planet create a critical mass to affect the universe. But to say this is to fall in to the trap of seeing oneself as distinct from the universe.