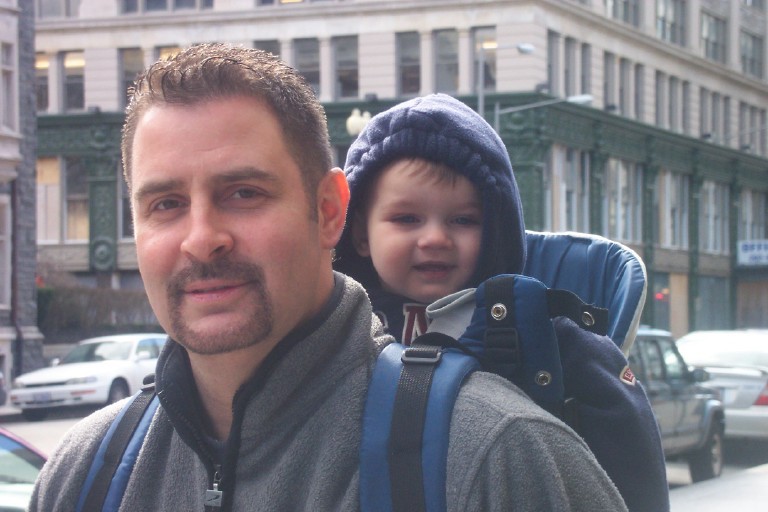 After Russ left a full basketball scholarship at the University of Rhode Island (read about his basketball career), he returned to Maryland and worked his way through Towson University, earning a degree in Mass Communications and a certification in Secondary Education. After a brief teaching stint in Delaware, Russ moved to Boston in 1992, where he worked as a counselor in a group home while earning a real estate license. Russ began selling real estate in 1993 and quickly became a multimillion dollar sales agent in and around the Somerville/Cambridge areas of Massachusetts. Shortly after marrying, Russ and Rosa moved to Maryland in 1998, where he worked as an account executive for a health insurance company before creating and publishing a monthly newspaper entitled Entertainment Monthly (circulation of 20,000). Though readership numbers were increasing at an impressive rate, advertising revenue nonetheless proved sluggish and the newspaper eventually folded in 2000.
It was at this point that Russ decided to return to teaching, taking a position first at a middle school in Baltimore City and later at a high school in Anne Arundel County. As a teacher, Russ has played an integral role in developing several new programs instituted by the school district. While teaching history, he also piloted the AVID program during the 2002-2003 school year. In 2003-2004, he was called upon to help prepare Anne Arundel County's application for entry into the International Baccalaureate (IB) program as well as cowrite the curriculum for the IB course called Theory of Knowledge (TOK), which he also taught for the first year of its existence. Even though it was the pilot year, his TOK students scored in the top 10% nationally and the top 20% worldwide on IBO assessments. With both the AVID program and the TOK course successfully up and running and with the birth of his second son (Sabin) in 2006, Russ asked to return to solely teaching history. It was during these years, 2005-2009, that Russ wrote his three books. In February of 2010, Russ and Rosa had their third child, a little girl named Melody.
Note: Russ has written steadily throughout the years, beginning as early as 1980. Click on the link to find the list of his writings that have been recorded with the Library of Congress (http://www.copyright.gov/records/). More than 1500 pages of his writings, published and unpublished, have been copyrighted over the last three decades, including a yet to be published 500 page novel Russ wrote between 1991 and 1997. There are currently 26 of his works listed in the recorded archives.