What Readers Are Saying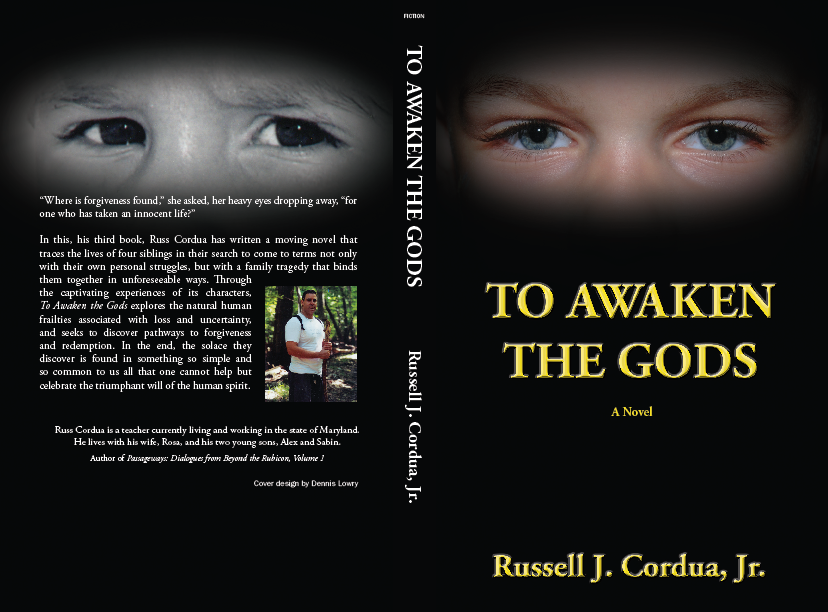 "Hello, Mr. Cordua! I am not sure if you remember me, but I was one of your history students, who also helped with the AVID program. My maiden name is Hampton. This is such a random time to contact you but I couldn't wait. I just finished reading your book "To Awaken the Gods" and I must say it was one of the best books I have read in a long time. I couldn't put it down, which is why I am writing this at 4:30 in the morning. The philosophies you touched upon were very moving. It's funny, I can actually remember you teaching us these things in class. I remember the lesson you gave when you said our universe is the size of one grain of sand compared to all of the sand on our planet. That lesson has always stuck with me and I often think about the things you taught us even before reading your book. I just wanted to say thank you for being an awesome teacher and obviously an amazing author. I am looking forward to reading your other books. Once again, thank you and I hope everything is well with you."

"Rosa. I just finished Russ' book. Absolutely loved it. Read it over the weekend. I'm going to pass it on to my sister (and mom)."

"Just read the book…great realism. Loved the philosophy mixed with redemption. I read it in basically one sitting. Loved it!"

"Hi Rosa - I received the book yesterday…REALLY enjoyed it! I went out by the pool and read it from cover to cover in one sitting! It was a very good read. Enjoyed the characters and how forgiveness was given and received. Congratulations to Russ…"

"Rosa-Tell your husband I enjoyed his book. I read it on vacation. It was great!"

"Russ, I began reading and looked up and was half way through it. A really, really good book."

"Russ. Finished your book last night. I cried. Will this become a series? Or will you be moving on? I really enjoyed the characters…"

"I finished your book and it was great! Such a neat, realistic type novel. I really enjoyed reading it!"
"Russ, what a wonderful book!"

"Wow! I just read To Awaken the Gods. I bawled at the end. Great book!

"Russ – I just finished reading To Awaken the Gods. Very good! I liked the meaning at the end and how it had a "happy ever after" kind of ending. It definitely gets you thinking about how you view the world and your surroundings. I like books like that – makes me feel good! I will definitely pass it on to my avid reader friends!"
Online Review: "This book captured me from the first page. A truly stirring, compelling story. I would love to see a part II."

Online Review: "The only word I can think of to describe this book is phenomenal! Once I started reading it I couldn't put it down. The description and detail that the author uses to depict each scene keeps you eager and excited for each and every chapter.
What got me the most is that this story has something in it that almost anyone can relate to regarding themselves. It really makes you think and leaves you with a greater perspective on life. If someone wants a true human drama, this is the book to read.
I have recommended this book to several others who have all returned it with raving reviews. This truly is a well written and a must read book."
Online Review: "Having read and thoroughly enjoyed this author's first two books, I found it fascinating to read this novel, which is a departure from his first two books. Yet the author's interesting approach and poetic style of prose is as evident as ever – even more so. He handles such delicate personal crises with great sensitivity and insight. This book has been read and discussed in my reading circle and I've yet to find a reader who did not say they were absolutely riveted and profoundly moved by it--male or female!"
Online Review: "Very moving story of letting go of past mistakes and finding the strength to forgive the most crushing offenses…definitely a great read."