1981-82 First Team Baltimore All-Metro
(photo featured in the ESPN 30 for 30 film Baltimore Boys)
Russ "Rusty" Cordua graduated from Old Mill High School in 1982, where he broke many of the school's records (before the three-point line was instituted), including total career points (1401), season points and rebounds per game (27 pts/13 rebounds), and free throw percentage (86%), all of which are still standing records. Russ graduated as a member of the famed 1982 class of Baltimore basketball, where the area boasted the nation's number one and number two ranked teams (Calvert Hall and Dunbar, respectively) and a third team (Lake Clifton) that also broke into the national top 20 rankings. Russ's 27 point per game average placed him in the top three in scoring in the entire region. For his efforts, Russ was named to the storied 1982 first team Baltimore All-Metro, which included an unprecedented cast of future NBA players – David Wingate, Duane Farrell, and Reggie Williams. Two future NBA players, Muggsy Bogues and Reggie Lewis, were named to the All-Metro's second team. Russ's high school career culminated in an electrifying 29 point, 10 rebound performance in an Anne Arundel County All-Star blowout win against the Baltimore City All-Star team in the Baltimore Post Shootout held at Morgan State University. The contest was so lopsided by midway through the second half that Russ didn't play during the entire fourth quarter.
Russ was heavily recruited by the likes of Maryland, Clemson, Cleveland State, Utah, Penn State, West Virginia, and Old Dominion, but ultimately chose to sign with the University of Rhode Island of the Atlantic 10 Conference. Russ's 13 points per game average made him the highest scoring freshman the school had seen since longtime NBA star Sly Williams had played for the school back in the 1970s. As a freshman, Russ scored in double figures 21 out of 27 games, with highlights that included 21 and 25 point performances against Hall of Fame coach John Chaney's Temple University, 24 against Duquesne, 18 against St. Joseph's, 19 against UMass, 18 against George Washington (with Boston Celtic's Red Auerbach in attendance), and an 18 point outing against a Gary William's coached and Michael Adam's led Boston College team. This Boston College performance prompted then Boston Globe sports writer and current ESPN columnist Jackie MacMullan (often on shows such as PTI, Around the Horn, etc…) to write that Rusty Cordua put on "an incredible shooting display." At the conclusion of his freshman year, Russ was named to the Atlantic 10 All-Rookie team. He was also the youngest player named to the Atlantic 10 All-Star Team that toured Spain during the summer of 1983. This Atlantic 10 team played against the Olympic teams from Spain, Panama, and the Soviet Union. The Soviet team included the legendary Arvydas Sabonis, who was considered at the time (along with Patrick Ewing) as being the best big man in the world. Russ and Sabonis were two of the youngest players in the tournament.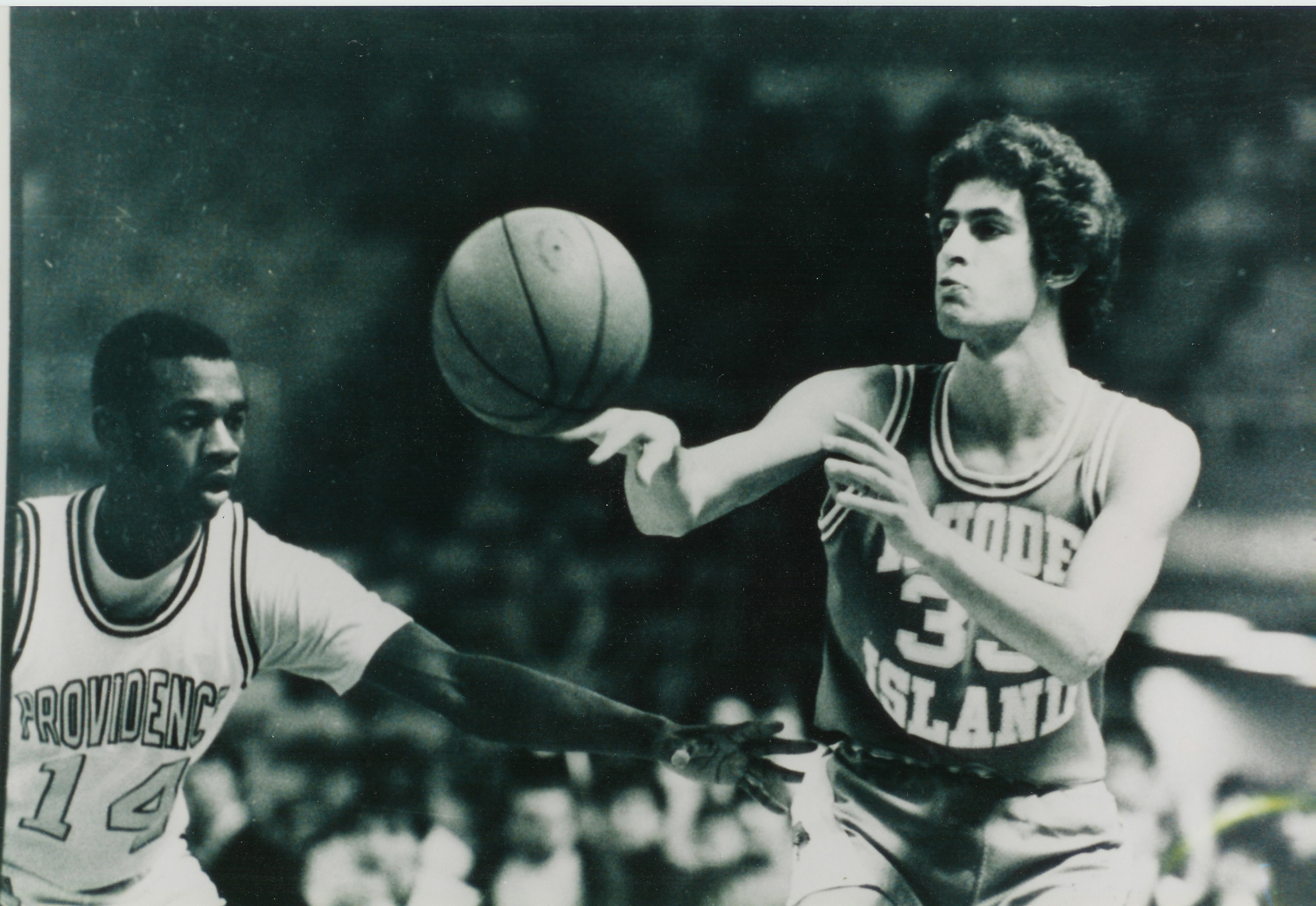 Russ Cordua (freshman year) against Big East rival Providence College
Heading into the 1983-84 season, Russ was being touted as Rhode Island's top returning player; however, Russ would never suit up again for the Rams as his career was ultimately cut short by an injury suffered just before the opening of the St. John's tournament in New York City.
"Rusty may have been the best pure shooter I ever saw in 50 years watching URI basketball. Incredible range and quick release. Too bad he left after his only year at URI. He would have been one of the greats here."
- Providence Journal forum (posted on April 3, 2013 by rodfromcranston)
Career Highlights
High School…
Three-time Anne Arundel All-County performer (1980, 81, 82)
Leading Scorer in Old Mill High School history with 1401 points (before the existence of the 3-point line)
All-time leading scorer and rebounder for a single season: 27 points and 13 rebounds per game (1982)
High games included:
39 points, 19 rebounds in a playoff game against Arundel High School (1982)
36 points, 13 rebounds against Annapolis High School (1982)
42 points and 12 rebounds against South River High School (1982)



Selected to first-team Baltimore All-Metro (1982)
Selected to the Baltimore Post Shootout All-Tournament team in 1982 (included a 29 point, 10 rebound performance against the Baltimore City Public School All-Star team)
McDonald's Capital Classic US All-Star nominee
College…
During 1982-1983 season averaged 13 points per game as a freshman at the University of Rhode Island (highest average since Sly Williams, 1976)
Scored in double figures 21-27 games
High games included (as a freshman):
25 and 21 point performances against Hall of Fame coach John Chaney's Temple University
18 points against a Gary Williams-coached Boston College team
18 points against St. Joseph's University
24 points against Duquesne University
18 points against George Washington University
14 points against West Virginia University
19 points against UMass



86% foul shooter
Selected to the 1982-83 Atlantic 10 Conference All-Rookie team
Youngest member selected to the 1982-83 Atlantic 10 Conference All-Star team which toured Spain in the summer of 1983 (competed against Olympic teams from Spain, the Soviet Union, and Panama)
Career ending leg injury suffered pre-season of sophomore year (1983-84)
Future NBA guards Russ played against during his freshman year…
Michael Adams, junior, Boston College
Dominic Pressley, freshman, Boston College
Terence Stansbury, junior, Temple University
Mark Jones, senior, St. Bonaventure
Maurice Martin, freshman, St. Josephs
John Battle, sophomore, Rutgers University
Greg Jones, senior, West Virginia (A-10 player of the year and 3rd round NBA draft pick)


Russ scored an average of 16.5 points per game as a freshman against these teams.


Other NBA players (forwards and centers) Russ played against: Otis Thorpe, senior, Providence College, Roy Hinson, senior, Rutgers University, Mark West, senior, Old Dominion, Jay Murphy, junior, Boston College, John Garris, senior, Boston College.
Other Basketball Information…
During the summer following his freshman year at Rhode Island, Russ was hand-picked by Joe Hassett (former Providence College star and long-time NBA player) to demonstrate offensive moves and shooting techniques for his instructional videos.
Over the years, Russ attended some of the nation's top basketball camps, including five sessions of Howard Garfinkle's renowned Five Star camp (with future NBA draftees/players such as Maryland's Len Bias, Louisville's Billy Thompson, Duke's Johnny Dawkins, Syracuse's Dwayne "Pearl" Washington, and Virginia Tech's Dell Curry), two sessions of the national BC All-Star camp (where he roomed with future University of Connecticut star and NBA player Harold Pressley, and future University of Indiana player, Delray Brooks), a session of Hall of Fame DeMatha High School coach Morgan Wooten's summer camp (Russ' camp team was coached by future North Carolina State star shooting guard and 1983 national champion, Dereck Whittenburg), and several sessions of the Buffalo Gap summer camp.
In the early '90s, Russ served as the head JV Boys' basketball coach at Howard High School in Howard County, Maryland and the Varsity Boys' coach at Middletown High School in Delaware.
Russ also ran individual basketball skills clinics in and around Howard County, Maryland between 1990 and 1992.